Hans Dieter Schotten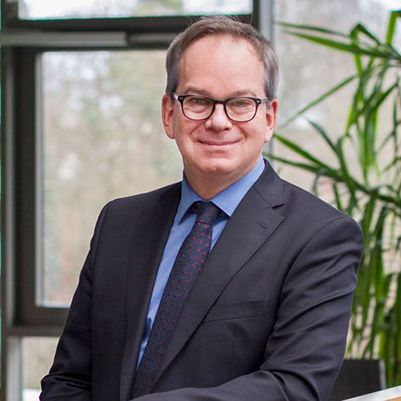 German Research Center for Artificial Intelligence Intelligent Networks Research Group Kaiserslautern,
Germany
and
University of Kaiserslautern Division of Wireless Communications and Radio Positioning Kaiserslautern,
Germany
Hans Dieter Schotten is Full Professor and Director of the Chair for Wireless Communication and Navigation of the University of Kaiserslautern. He is also a Scientific Director and member of the management board of the German Research Center for Artificial Intelligence (DFKI) where he heads the Department for Intelligent Networks. Before joining academia, he held industry positions in Ericsson and Qualcomm. Since 2018, he has been the Chairman of the German Information Technology Society ITG and a member of the supervisory board of the German VDE. His research interests are in mobile and industrial communications, network security, and AI. Hans Dieter Schotten received his Diploma and PhD in Electrical Engineering from the RWTH Aachen University in 1990 and 1997, respectively.
Journal of Information Warfare
The definitive publication for the best and latest research and analysis on information warfare, information operations, and cyber crime. Available in traditional hard copy or online.
Quick Links
View the latest issue of JIW.
Purchase a subscription to JIW.